December 13th, 2010
Hello everyone,
Just wanted to wish everyone a safe and happy Christmas and a wonderful New Year! Thank you to all who have purchased my artwork over the past year, I appreciate your business. If you sign up to my email list I will make certain that you get any discount offers emailed to you in the future!
My artwork will be on sale until December 24th 2010. If you enter coupon code UTGGHH at checkout you will receive a 20% discount on my commissions. Hope you can take advantage of this wonderful offer.

Wishing you all the best in 2011!
Cathy
March 24th, 2010
Hi Everyone,
It's been a while. If I have missed thanking anyone for your comments I apologize and I want you to know how much I treasure each and every one of them. THANK YOU!!
I have finally finished my website and have also recently put together a small inspirational book which is for sale. It was a lot of work, I mean emotionally, and a little of the other, editing etc..It contains a small amount of my portfolio photos arranged with some heartfelt lessons and thoughts. I hope you will take a look when you get a chance and buy a copy for someone you love. It is small enough to give as a discreet gift for that person who has a lot of doubts or is just in need of some reassurance and positive thoughts. I am sharing what I have learned in hopes of helping someone else, I actually like how it turned out! I may do more! I gave it as a gift to someone I love and her words were.. "I am astounded!" "...You have managed to put together all the things that I would like to say but never quite now how to put it together." This compliment meant the world to me,and I can only hope it can help a few others who really need it!

About the Book:
This book is a compilation of my artwork and photography put together in a motivational approach to help someone struggling with obstacles in their lives; therefore it is not too wordy and is small enough to give as a gift. I have geared it towards a teen or young adult audience, although others should also benefit from the sentiments inside if their self-worth takes a blow, dreams are crushed, or you just need to single out a few of the important things in life that truly matter. My personal experiences with family loss have taught me just how valuable every day is and through it all I have gained some insight to how one feels and what you can overcome to live your life every day.
I lost my mother when I was 13, my only brother committed suicide a few days before his 31st birthday, and my father died of cancer a couple of years ago. I am a wife and a mother of two beautiful children. I have once again found my artwork that had been missing from my life for a number of years, and it has helped me to cope and heal from the inside. Everyone needs an outlet and a little support goes a long way. If you don't have the words to say to someone or you want to remind them of the importance of their lives, then I would recommend this book. I am sharing a little of what I have learned with you in hopes of inspiring someone else. The book is a gentle reminder of the importance of life, and a chance to pause to take some of it in.
Links to preview and buy the book can be found on my website www.spotdzine.com All pictures used in the book can be purchased from FAA by following links from my site portfolio or going directly to FAA.
Have a wonderful day,
It's great to be back doing what I love!
December 28th, 2009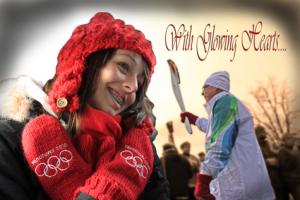 As Canadians, we tend to be a humble but proud breed and are often quiet about our nationality but are very proud of where we come from. On Christmas Eve the Olympic flame passed through our home town bringing with it a sense of togetherness and national pride. When we headed to downtown Strathroy we were unaware of the crowd that we would encounter. What a wonderful sight! Families dressed in red and white all lining the streets waiting for the arrival of the flame. Everyone was smiling and the lack of snow at Christmas actually went unnoticed for that brief little while for my 9 year old son who remarked "When I see the flame, then it will feel like Christmas!" Poor Santa even took a back seat for a while as we waited for the torchbearer dressed in his Olympic white. Finally the well guarded caravan arrived and the cheers went up. Young athletes embraced the wonderful feeling of peace and national pride and let their dreams soar in hopes of a time when maybe they too would represent our country in their chosen sports. As I looked at the wonderment in the faces of my children and their friends, and the excitement around me, I wished that the world could be a peaceful happy place like this all the time. Maybe a lot of it had to do with the fact that it was Christmas Eve and families had the opportunity to be together and share, but the feeling was wonderful and it is a memory I will cherish forever!